Catalog# :
5081
Protocadherins comprise the largest group within the cadherin family of calcium-dependent cell-cell adhesion molecules. Protocadherin 18 (PCDH18) was initially identified through screening of human and mouse ESTs using conserved cytoplasmic domain motifs. Tissue screening revealed PCDH18 broad expression in tissues such as brain, liver, heart, kidney, lung, and trachea. PCDH18 expression is also temporally and spatially regulated in the mouse embryonic brain and interacts with Disabled-1, an intracellular adapter protein involved in neuronal migration and cell positioning during mammalian brain development. PCDH18 was also found to be expressed in the developing zebrafish neural tube and central nervous system, lending support to the hypothesis that PCDH18 may play a role during brain development. At least three isoforms of PCDH18 are known to exist. This
antibody
is predicted to not cross-react with PCDH12.
Additional Names : PCDH18, Protocadherin 18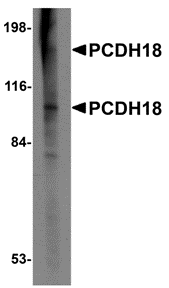 Description
Left:
Western blot analysis of PCDH18 in Raji cell lysate with PCDH18
antibody
at 2 µg/ml.
Below:
Immunohistochemistry of PCDH18 in mouse brain tissue with PCDH18
antibody
at 2.5 µg/ml.




Other Product Images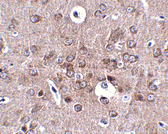 Source :
PCDH12
antibody
was raised against a 17 amino acid
peptide
near the amino terminus of human PCDH12.
Purification :
Affinity chromatography purified via
peptide
column
Clonality and Clone :
This is a polyclonal antibody.
Host :
PCDH18 antibody was raised in rabbit.
Application :
PCDH18
antibody
can be used for detection of PCDH18 by Western blot at 1 – 2 µg/ml.
Tested Application(s) :
E, WB, IHC
Buffer :
Antibody is supplied in PBS containing 0.02% sodium azide.
Blocking Peptide :
Cat.No. 5081P - PCDH18
Peptide
Long-Term Storage :
PCDH18 antibody can be stored at 4ºC, stable for one year. As with all antibodies care should be taken to avoid repeated freeze thaw cycles. Antibodies should not be exposed to prolonged high temperatures.
Positive Control :
1.
Cat. No. 1207 - Raji Cell Lysate
Species Reactivity :
H, M, R
GI Number :
14589929
Accession Number :
NP_061908
Short Description :
Protocadherin 18
References
1.
Frank M and Kemler R. Protocadherins. Curr. Opin. Cell Biol. 2002; 14:557-62.
2.
Wolverton T and Lalande M. Identification and characterization of three members of a novel subclass of protocadherins. Genomics 2001; 76:66-72.
3.
Homayouni R, Rice DS, and Curran T. Disabled-1 interacts with a novel developmentally regulated protocadherin. Biochem. Biophys. Res. Commun. 2001; 289:539-47.
4.
Kubota F, Murakami T, Tajika Y, et al. Expression of protocadherin 18 in the CNS and pharyngeal arches of zebrafish embryos. Int. J. Dev. Biol. 2008; 52:397-405.