Catalog#
:5137
Rising obesity rates are rapidly becoming a growing health concern in the developing world. The fat mass and obesity associated gene (FTO) is the first gene discovered to contribute to common forms of human obesity. FTO is a member of the non-heme dioxygenase superfamily, encoding a 2-oxoglutarate-dependent nucleic acid demethylase whose mRNA is widely expressed, especially in neurons of feeding-related nuclei of the brain. FTO mRNA in the arcuate nucleus in mice is up-regulated by feeding and down-regulated during fasting, although the opposite pattern has been observed in rats. At least four isoforms of FTO are known to exist.
Additional Names : FTO, Fat mass and obesity associated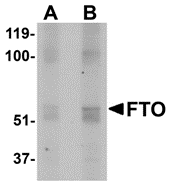 Description
Left:
Western blot analysis of FTO in human uterus tissue lysate with FTO antibody at (A) 1 and (B) 2 µg/ml.

Below:Immunohistochemistry of FTO in mouse brain tissue with FTO antibody at 2.5 μg/ml.

Other Product Images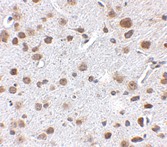 Source :

FTO antibody was raised against a 15 amino acid peptide from near the amino terminus of human FTO.


Purification :

Affinity chromatography purified via peptide column


Clonality and Clone :

This is a polyclonal antibody.


Host :

FTO antibody was raised in rabbit.
Please use anti-rabbit secondary antibodies.


Application

: FTO antibody can be used for detection of FTO by Western blot at 1 - 2 µg/ml.


Tested Application(s) :

E, WB, IHC


Buffer :

Antibody is supplied in PBS containing 0.02% sodium azide.


Blocking Peptide :

Cat.No. 5137P - FTO Peptide


Long-Term Storage :

FTO antibody can be stored at 4ºC, stable for one year. As with all antibodies care should be taken to avoid repeated freeze thaw cycles. Antibodies should not be exposed to prolonged high temperatures.


Positive Control :




1.

Cat. No. 1317 - Human Uterus Tissue Lysate


Species Reactivity :

H


GI Number :

148841515


Accession Number :

Q9C0B1


Short Description :

Fat mass and obesity associated protein


References




1.

Scuteri A, Sanna S, Chen W-M, et al. Genome-wide association scan shows genetic variants in the FTO gene are associated with obesity-related traits. PloS Genet. 2007; 3:e115.


2.

Gerken T, Girard CA, Tung YCL, et al. The obesity-associated FTO gene encodes a 2-oxyglutarate-dependent nucleic acid demethylase. Science 2007; 318:1469-72.


3

. Fredriksson R, Hagglund M, Olszewski PK, et al. The obesity gene, FTO, is of ancient origin, upregulated during food deprivation and expressed in neurons of feeding-related nuclei of the brain. Endocrinology 2008; 149:2062-71.


4.

Stratigopoulous G, Padilla S, Leduc CA, et al. Regulation of FTO/FTM gene expression in mice and humans. Am. J. Physiol. Regul. Integr. Comp. Physiol. 2008; 294:R1185-96.