Catalog#
:5173
PTER is a mammalian homolog to bacterial phosphotriesterases, enzymes that hydrolyze phosphotriester-containing organophosphate pesticides. It is expressed primarily in the proximal renal tubules and the gene has been localized in humans to chromosomal band 10p12 by in situ hybridization. PTER, in addition to FTO, MC4R, and NPC1 has recently been shown to be a new risk loci for early-onset and morbid adult obesity in European populations. At least two isoforms of PTER are known to exist.
Additional Names : PTER, Phosphotriesterase-related protein, RPR-1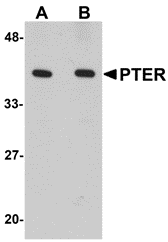 Description
Left:
Western blot analysis of PTER in human kidney tissue lysate with PTER
antibody
at (A) 1 and (B) 2 µg/ml.
Below:
Immunohistochemistry of PTER in mouse kidney tissue with PTER
antibody
at 2.5 μg/ml.


Other Product Images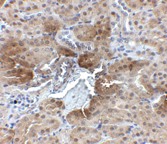 Source :
PTER
antibody
was raised against a 16 amino acid
peptide
from near the carboxy terminus of human PTER.
Purification :
Affinity chromatography purified via
peptide
column
Clonality and Clone
: This is a polyclonal
antibody
.
Host :
PTER antibody was raised in rabbit.
Please use anti-rabbit secondary antibodies
Application :
PTER
antibody
can be used for detection of PTER by Western blot at 1 - 2 µg/ml.
Tested Application(s) :
E, WB, IHC
Buffer :
Antibody is supplied in PBS containing 0.02% sodium azide.
Blocking Peptide :
Cat.No. 5173P - PTER Peptide
Long-Term Storage :
PTER
antibody
can be stored at 4ºC, stable for one year. As with all antibodies care should be taken to avoid repeated freeze thaw cycles. Antibodies should not be exposed to prolonged high temperatures.
Positive Control
:
1.
Cat. No. 1305 - Human Kidney Tissue Lysate
Species Reactivity :
H, M, R
GI Number :
55664514
Accession Number
: CAH73146
Short Description :
A phosphotriesterase-related protein
References
1
. Davies JA, Buchman VL, Krylova O, et al. Molecular cloning and expression pattern of rpr-1, a resiniferatoxin-binding, phosphotriesterase-related protein, expressed in rat kidney tubules. FEBS Lett. 1997; 410:378-82.
2.
Alimova-Kost MV, Imreh S, Buchman VL, et al. Assignment of phosphotriesterase-related gene (PTER) to human chromosome band 10p12 by in situ hybridization. Cytogenet.. Cell Genet. 1998; 83:16-7.
3.
Meyre D, Delplanque J, Chevre JC, et al. Genome-wide associated study for early-onset and morbid adult obesity identifies three new risk loci in European populations. Nat. Genet. 2009; 41:157-9.