Catalog#
:4613
Glycerol-3-phosphate acyltransferase 1 (GPAT1), one of four known GPAT isoforms, is located on the mitochondrial outer membrane, allowing reciprocal regulation with carnitine palmitoyltransferase-1. It is thought to be critical for the development of hepatic steatosis; steatosis triggered by GPAT1 overexpression leads to hepatic and possibly peripheral insulin resistance. GPAT1 is transcriptionally upregulated by insulin and sterol regulatory element binding protein (SREBP-1) and downregulated by AMP-activated protein kinase. Mice deficient in GPAT1 exhibit decreased triacylglycerol (TAG) in cardiomyocytes even in high-fat diets, suggesting that GPAT1 contributes significantly to TAG accumulation in heart tissue during lipogenic or high fat diets. At least two isoforms of GPAT1 are known to exist.
Additional Names : GPAT1, Glycerol-3-phosphate acyltransferase 1, GPAM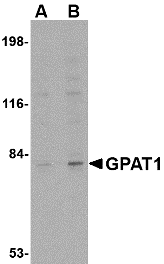 Description
Left:
Western blot analysis of GPAT1 in rat brain tissue lysate with GPAT1 antibody at (A) 1 and (B) 2 µg/ml.

Below:Immunohistochemistry of GPAT1 in rat brain with GPAT1 antibody at 2.5 µg/ml.




Other Product Images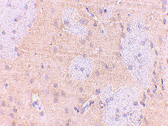 Source :

GPAT1 antibody was raised against a 15 amino acid peptide near the carboxy terminus of the human GPAT1.


Purification :

Affinity chromatography purified via peptide column


Clonality and Clone :

This is a polyclonal antibody.


Host :

GPAT1 antibody was raised in rabbit.
Please use anti-rabbit secondary antibodies.


Application :

GPAT1 antibody can be used for detection of GPAT1 by Western blot at 1 – 2 µg/ml.


Tested Application(s) :

E, WB, IHC


Buffer :

Antibody is supplied in PBS containing 0.02% sodium azide.


Blocking Peptide :

Cat.No. 4613P - GPAT1 Peptide


Long-Term Storage :

GPAT1 antibody can be stored at 4ºC, stable for one year. As with all antibodies care should be taken to avoid repeated freeze thaw cycles. Antibodies should not be exposed to prolonged high temperatures.


Positive Control :




1

. Cat. No. 1463 - Rat Brain Tissue Lysate


Species Reactivity :

H, M, R


GI Number :

190358539


Accession Number :

NP_065969


Short Description :

Glycerol-3-phosphate acyltransferase 1


References




1.

Coleman RA and Lee DP. Enzymes of triacylglycerol synthesis and their regulation. Prog. Lipid Res. 2004; 43:134-76.


2.

Linden D, William-Olsson L, Ahnmark A, et al. Liver-directed overexpression of mitochondrial glycerol-3-phosphate acyltransferase results in hepatic steatosis, increased triacylglycerol secretion and reduced fatty acid oxidation. FASEB J. 2006; 20:434-43.


3.

Eberle D, Hegarty B, Bossard P, et al. SREBP transcription factors: master regulators of lipid homeostasis. Biochimie 2004; 86:839-48.


4.

Lewin TM, de Jong H, Schwerbrock NJ, et al. Mice deficient in glycerol-3-phosphate acyltransferase-1 have diminished myocardial triacylglycerol accumulation during lipogenic diet and altered phospholipid fatty acid composition. Biochim. Biophys. Acta 2008; 1781:352-8.