Catalog# :
4573
Neuronal pentraxin (NPTX) 2 was initially identified as a member of the pentraxin family having high homology to NPTX1. Unlike NPTX1 however, NPTX2 is expressed in testes, pancreas, liver, heart, skeletal muscle as well as brain. NPTX2 possesses the lectin properties common to the pentraxin family, promotes neurite outgrowth, and is rapidly regulated by neuronal activity. NPTX1 and NPTX2 form heterocomplexes that contribute to both activity-independent and –dependent excitatory synaptogenesis. Recently, NPTX2 has been found to be highly upregulated in Parkinsonian substantia nigra and localizes to Lewy bodies and Lewy neurites in sporadic Parkinson's disease (PD), suggesting that it is involved in the pathway dysregulation that underlies PD. This NPTX2
antibody
is predicted to be specific to NPTX2 and not recognize NPTX1.
Additional Names : NPTX2, Neuronal pentraxin 2, NP2, NP-II, neuronal activity-regulated protein, NARP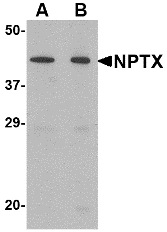 Description
Left:
Western blot analysis of NPTX2 in mouse brain tissue lysate with NPTX2
antibody
at (A) 0.5 and (B) 1 µg/ml.
Below:
Immunohistochemistry of NPTX2 in human brain with NPTX2 antibody at 5 µg/ml.


Other Product Images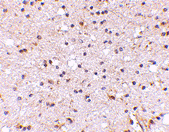 Source :
NPTX2
antibody
was raised against a 16 amino acid
peptide
near the center of the human NPTX2.
Purification :
Affinity chromatography purified via peptide column
Clonality and Clone :
This is a polyclonal antibody.
Host :
NPTX2 antibody was raised in rabbit.
Please use anti-rabbit secondary antibodies.
Application :
NPTX2 antibody can be used for detection of NPTX2 by Western blot at 1 – 2 µg/ml.
Tested Application(s) :
E, WB, IHC
Buffer :
Antibody is supplied in PBS containing 0.02% sodium azide.
Blocking Peptide :
Cat.No. 4573P - NPTX2
Peptide
Long-Term Storage :
NPTX2 antibody can be stored at 4ºC, stable for one year. As with all antibodies care should be taken to avoid repeated freeze thaw cycles. Antibodies should not be exposed to prolonged high temperatures.
Positive Control
:
1.
Cat. No. 1403 - Mouse Brain Tissue Lysate
Species Reactivity
: H, M, R
GI Number :
28195384
Accession Number :
NP_002514
Short Description :
Neuronal pentraxin 2
References
1.
Hsu YC and Perin MS. Human neuronal pentraxin II (NPTX2): conservation, genomic structure, and chromosomal localization. Genomics 1995; 28:220-7.
2.
Tsu CC, Copeland GG, Gilbert DJ, et al. Narp, a novel member of the pentraxin family, promotes neurite outgrowth and is dynamically regulated by neuronal activity. J. Neurosci. 1996; 16:2463-78.
3.
Xu D, Hopf C, Reddy R, et al. Narp and NP1 form heterocomplexes that function in developmental and activity-dependent synaptic plasticity. Neuron 2003; 39:513-28.
4.
Moran LB, Hickey L, Michael GJ, et al. Neuronal pentraxin II is highly upregulated in Parkinson's disease and a novel component of Lewy bodies. Acta Neuropathol. 2008; 115:471-8