APRIL Antibody
Catalog# : 2415
Members in the TNF superfamily regulate immune responses and induce apoptosis. A novel member in the TNF family was recently identified by several groups and designated APRIL (for a proliferation-inducing ligand), TALL-2 (for TNF- and ApoL-related Leukocyte-expressed Ligand 2), and TRDL-1a (for TNF related death ligand 1a) in human and mouse (1-4). Two receptors for APRIL were recently identified and designated TACI and BCMA (5-7). APRIL stimulates B and T cell proliferation, triggers humoral immune responses, activates NF-kappaB, and induces cell death (1-7). APRIL and its close relative of BlyS and their receptors BCMA and TACI are involved in diseases of autoimmunity and cancer (8,9).
Additional Names : APRIL (ED2)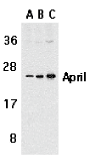 Description
Left: Western blot analysis of APRIL expression in Jurkat cells with APRIL antibody at 1 µg/ml (A), 2 µg/ml (B), and 4 µg/ml
Below: Immunohistochemistry of APRIL in human prostate tissue with APRIL antibody at 10 µg/ml.
Other Product Images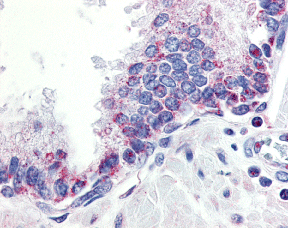 Source : APRIL antibody was raised against a synthetic peptide corresponding to amino acids within a extracellular domain of human APRIL.
Purification : Affinity chromatography purified via peptide column
Clonality and Clone : This is a polyclonal antibody.
Host : APRIL antibody was raised in rabbit. Please use anti-rabbit secondary antibodies.
Immunogen : Human APRIL (Extracellular Domain 2) Peptide (Cat. No. 2415P)
Application : APRIL antibody can be used for detection of APRIL by Western blot at 1 – 4 µg/ml.Jurkat cell lysate was used as a positive control and a 27 kDa band was detected. APRIL antibody is human, mouse and rat reactive.
Tested Application(s) : E, WB, IHC
Buffer : Antibody is supplied in PBS containing 0.02% sodium azide.
Blocking Peptide : Cat. No. 2415P - APRIL (ED2) Peptide
Long-Term Storage : APRIL antibody can be stored at 4ºC, stable for one year. As with all antibodies care should be taken to avoid repeated freeze thaw cycles. Antibodies should not be exposed to prolonged high temperatures.
Positive Control
1. Cat. No. 1205 - Jurkat Cell Lysate
2. Cat. No. 1312 - Human Prostate Tissue Lysate
Species Reactivity :H, M
GI Number : 4507599
Accession Number : NP_003799
Short Description : (ED2) A new member in the TNF family
References
1. Hahne M, Kataoka T, Schroter M, et al. APRIL, a new ligand of the tumor necrosis factor family, stimulates tumor cell growth. J Exp Med. 1998;188(6):1185-90.
2. Shu HB, Hu WH, Johnson H. TALL-1 is a novel member of the TNF family that is down-regulated by mitogens. J Leukoc Biol. 1999;65(5):680-3.
3. Kelly K, Manos E, Jensen G, et al. APRIL/TRDL-1, a tumor necrosis factor-like ligand, stimulates cell death. Cancer Res. 2000;60(4):1021-7.
4. Yu G, Boone T, Delaney J, et al. APRIL and TALL-I and receptors BCMA and TACI: system for regulating humoral immunity. Nat Immunol. 2000;1(3):252-6.