ST3gal6 Antibody
Catalog# : 5169
Sialyltransferases catalyze the transfer of sialic acid from cytidine 5-prime monophospho-N-acetylneuraminic acid (CMP-NeuAc) to terminal positions of glycoprotein and glycolipid carbohydrate groups. Terminal NeuAc residues are key determinants of carbohydrate structures, such as the sialyl-Lewis X determinants, and are widely distributed in many cell types. However, cancer cells often express more heavily sialylated glycans on their cell surface and this feature sometimes correlates with invasiveness. In contrast, expression of ST3gal6, a member of the sialyltransferase family that sialylates type II lactosamine structures on glycoproteins and glycolipids, was found to be significantly decreased by hypermethylation of the gene in gastrointestinal cancer. At least three isoforms of ST3gal6 are known to exist.
Additional Names : ST3gal6, Alpha2,3-sialyltransferase 6, ST3Gal VI, siat10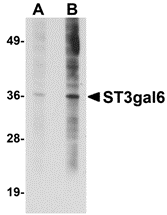 Description
Left: Western blot analysis of ST3gal6 in HeLa cell lysate with ST3gal6 antibody at (A) 1 and (B) 2 µg/ml.
Below: Immunocytochemistry of ST3gal6 in HeLa cells with ST3gal6 antibody at 5 μg/ml.
Other Product Images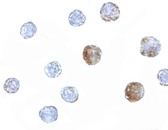 Source : ST3gal6 antibody was raised against a 16 amino acid peptide from near the carboxy terminus of human ST3gal6.
Purification : Affinity chromatography purified via peptide column
Clonality and Clone : This is a polyclonal antibody.
Host : ST3gal6 antibody was raised in rabbit. Please use anti-rabbit secondary antibodies.
Application : ST3gal6 antibody can be used for detection of ST3gal6 by Western blot at 1 - 2 µg/ml.
Tested Application(s) : E, WB
Buffer : Antibody is supplied in PBS containing 0.02% sodium azide.
Blocking Peptide : Cat.No. 5169P - ST3gal6 Peptide
Long-Term Storage : ST3gal6 antibody can be stored at 4ºC, stable for one year. As with all antibodies care should be taken to avoid repeated freeze thaw cycles. Antibodies should not be exposed to prolonged high temperatures.
Positive Control
1. Cat. No. 1201 - HeLa Cell Lysate
Species Reactivity :H, M, R
GI Number : 5174697
Accession Number : NP_006091
Short Description : Alpha2,3-sialyltransferase 6
References
1. Dall'Olio F and Chiricolo M. Sialyltransferases in cancer. Glycoconj. J. 2001; 18:841-50.
2. Okajima T, Fukumoto S, Miyazaki H, et al. Molecular cloning of a novel alpha2,3-sialyltransferase (ST3Gal VI) that sialylates type II lactosamine structures on glycoproteins and glycolipids. J. Biol. Chem. 1999; 274:11479-86.
3. Kawamura YI, Toyota M, Kawashima R, et al. DNA hypermethylation contributes to incomplete synthesis of carbohydrate determinants in gastrointestinal cancer. Gasatroenterology 2008; 135:142-51.