CDKN2A Antibody
Catalog# : 5033
The CDKN2A locus gives rise to 2 distinct transcripts from different promoters. The transcripts have been designated p16(INK4A) and p14(ARF). This chromosomal region undergoes a number of inversions, translocations, heterozygous deletions, and homozygous deletions in a variety of malignant cell lines including those from glioma, non-small cell lung cancer, leukemia, and melanoma. Deletion of the region containing CDKN2A is found in more than half of all melanoma cell lines. Conversely, transfection of CDKN2A suppressed the growth of two independent mesothelioma cell lines, suggesting that inactivation of the CDKN2 gene is an essential step in the etiology of malignant mesotheliomas. CDKN2A induces a G1 cell cycle arrest by inhibiting the phosphorylation of the Rb protein by the cyclin-dependent kinases CDK4 and CDK6. CDKN2A is expressed as at least three distinct isoforms.
Additional Names : CDKN2A, Cyclin-dependent kinase inhibitor 2A, CDK4 inhibitor, MTS1, p16(INK4A)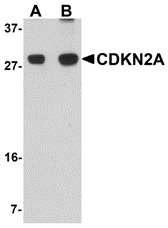 Description
Left: Western blot analysis of CDKN2A in C2C12 cell lysate with CDKN2A antibody at (A) 1 and (B) 2 µg/ml.
Below: Immunofluorescence of CDKN2A in human colon tissue with CDKN2A antibody at 20 µg/ml.
Source : CDKN2A antibody was raised against an 18 amino acid peptide from near the amino terminus of human CDKN2A.
Purification : Affinity chromatography purified via peptide column
Clonality and Clone : This is a polyclonal antibody.
Host : CDKN2A antibody was raised in chicken. Please use anti-chicken secondary antibodies.
Application : CDKN2A antibody can be used for detection of CDKN2A by Western blot at 1 – 2 µg/ml.
Tested Application(s) : E, WB, IF
Buffer : Antibody is supplied in PBS containing 0.02% sodium azide.
Blocking Peptide : Cat.No. 4211P - CDKN2A Peptide
Long-Term Storage : CDKN2A antibody can be stored at 4ºC, stable for one year. As with all antibodies care should be taken to avoid repeated freeze thaw cycles. Antibodies should not be exposed to prolonged high temperatures.
Positive Control
1. Cat. No. 1285 - C2C12 Cell Lysate
Species Reactivity :H, M, R
GI Number : 4502749
Accession Number : NP_000068
Short Description : Cyclin-dependent kinase inhibitor 2A
References
1. Stone S, Jiang P, Dayananth P, et al. Complex structure and regulation of the p16(MTS1) locus. Cancer Res. 1995; 55:2988-94.
2. Kamb A, Shattuck-Eidens D, Eeles R, et al. Analysis of the p16 gene (CDKN2) as a candidate for the chromosome 9p melanoma susceptibility locus. Nature Genet. 1994; 8:22-6.
3. Kratzke RA, Otterson GA, Lincoln CE, et al. Immunohistochemical analysis of the p16(INK4) cyclin-dependent kinase inhibitor in malignant mesothelioma. J. Nat. Cancer Inst. 1995; 87:1870-5.
4. Stott FJ,; Bates S, James MC, et al. The alternative product from the human CDKN2A locus, p14(ARF), participates in a regulatory feedback loop with p53 and MDM2. EMBO J. 1998; 17:5001-14.