Toso Antibody
Catalog# : 2273
Apoptosis is an important process by which normal tissue homeostasis and function are maintained. One of the major signals that regulate this process is mediated by the activation of the Fas receptor by its ligand. This leads to the formation of a Fas-associated death domain (FADD)- containing death-inducing signaling complex and the activation of caspase-8, which in turn activates downstream effector caspases, such as caspase-3 and -7. Recent experiments have shown that overexpression of Toso, a novel regulator of Fas-induced apoptosis in lymphoid cells, in Jurkat cells as well as transgenic mice render these cells resistant to Fas-induced apoptosis but not to TRAIL-induced apoptosis. Furthermore, Toso was found to associate with FADD, suggesting that Toso functions by disrupting the formation of the death-inducing signaling complex. Despite its predicted molecular weight, Toso often migrates at 60 kDa in SDS-PAGE.
Additional Names : Toso, Regulator of Fas-induced apoptosis, Fas apoptotic inhibitory molecule 3, FAIM3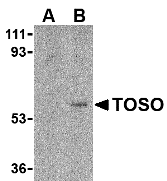 Description
Left: Western blot analysis of Toso in human lung tissue lysate with Toso antibody at 1 µg/ml in either the (A) presence, or (B) absence of blocking

peptide

.
Source : Toso antibody was raised against a 13

amino acid peptide

from near the carboxy terminus of human Toso.
Purification : Affinity chromatography purified via peptide column
Clonality and Clone : This is a

polyclonal antibody

.
Host : Toso antibody was raised in rabbit. Please use anti-rabbit secondary antibodies.
Application : Toso antibody can be used for detection of Toso by Western blot at 1 µg/ml.
Tested Application(s) : E, WB
Buffer :

Antibody

is supplied in PBS containing 0.02% sodium azide.
Blocking Peptide : Cat.No. 2273P - Toso

Peptide
Long-Term Storage : Toso antibody can be stored at 4ºC, stable for one year. As with all antibodies care should be taken to avoid repeated freeze thaw cycles. Antibodies should not be exposed to prolonged high temperatures.
Positive Control
1. Cat. No. 1302 - Human Lung Tissue Lysate
Species Reactivity :H
GI Number : 4885641
Accession Number : NP_005440
Short Description : a regulator of the death-inducing signaling complex
References
1. Curtin JF and Cotter TG. Live and let die: regulatory mechanisms in Fas-mediated apoptosis. Cell Signal. 2003; 15:983-92.
2. Hitoshi Y, Lorens J, Kitada S-I, et al. Toso, a cell surface, specific regulator of Fas-induced apoptosis in T cells. Immunity 1998; 8:461-71.
3. Song Y and Jacob CO. The mouse cell surface protein Toso regulates Fas/Fas ligand-induced apoptosis through its binding to Fas-associated death domain. J. Biol. Chem. 2005; 280:9618-26.