JMJD2A Antibody
Catalog# : 5373
Members of the Jumonji domain 2 (JMJD2) family contain a JmjN domain, a JmjC domain, a JD2H domain, two TUDOR domains, and two PHD-type zinc fingers. The first member of this group, JMJD2A, is widely expressed in human tissues and cell lines and functions as a trimethylation-specific demethylase, converting specific trimethylated histone residues to the dimethylated form, and as a transcriptional repressor. JMJD2A can also form a complex with the androgen receptor (AR), a transcription factor that is pivotal for the development of prostate cancer. Overexpression of JMJD2A stimulates AR function and this stimulation is dependent on JMJD2A catalytic activity, suggesting that JMJD2A might be a critical protein with roles in cell proliferation and oncogenesis.
Additional Names : JMJD2A, Jumonji domain-containing protein 2A, Lysine-specific demethylase 4A, KDM4A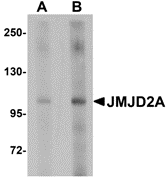 Description
Left: Western blot analysis of JMJD2A in rat liver tissue lysate with JMJD2A antibody at (A) 1 and (B) 2 µg/ml.
Source : JMJD2A antibody was raised against a 14 amino acid peptide from near the center of human JMJD2A.
Purification : Affinity chromatography purified via peptide column
Clonality and Clone : Polyclonal
Host : JMJD2A antibody was raised in rabbit. Please use anti-rabbit secondary antibodies.
Application : JMJD2A antibody can be used for detection of JMJD2A by Western blot at 1 - 2 µg/ml.
Tested Application(s) : E, WB
Buffer : Antibody is supplied in PBS containing 0.02% sodium azide.
Blocking Peptide : Cat.No. 5373P - JMJD2A Peptide
Long-Term Storage : JMJD2A antibody can be stored at 4ºC, stable for one year. As with all antibodies care should be taken to avoid repeated freeze thaw cycles. Antibodies should not be exposed to prolonged high temperatures.
Positive Control
1. Cat. No. 1464 - Rat Liver Tissue Lysate
Species Reactivity :H, M, R
GI Number : 55665236
Accession Number : CAH71021
Short Description : Lysine-specific demethylase 4A
References
1. Gray SG, Iglesias AH, Lizcano F, et al. Functional characterization of JMJD2A, a histone deacetylase- and retinoblastoma-binding protein. J. Biol. Chem. 2005; 31:28507-18.
2. Shin S and Janknecht R. Activation of androgen receptor by histone demethylases JMJD2A and JMJD2D. Biochem. Biophys. Res. Comm. 2007; 359:742-6