Fibulin 3 Antibody
Catalog# : 5213
Fibulin 3, also known as epidermal growth factor (EGF)-containing fibulin-like extracellular matrix protein 1 (EFEMP1), is a member of the fibulin family of extracellular glycoproteins, a group of proteins that are widely distributed and frequently associated with vascular and elastic tissues. The fibulin proteins typically contain a tandem array of EGF-like repeats and a fibulin-type COOH-terminal module. Aberrant accumulation of Fibulin 3 in the endoplasmic reticulum of retinal pigment epithelial cells has been shown to be associated with inherited forms of macular degeneration, but the loss of Fibulin 3 expression does not lead to macular degeneration but rather the appearance of hernias due to a reduction of elastic fibers of fascial connective tissue. Recent experiments have shown that expression of Fibulin 3 promotes tumor growth and may thus be a therapeutic target. At least three isoforms of Fibulin 3 are known to exist. This antibody is predicted to not cross-react with other Fibulin proteins.
Additional Names : Fibulin 3, FBLN3, EGF-containing fibulin-like extracellular matrix protein 1, EFEMP1, DHRD, DRAD, FBNL, MLVT, MTLV, S1-5, FIBL-3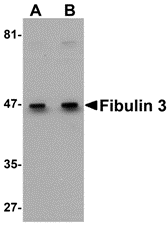 Description
Left: Western blot analysis of Fibulin 3 in HeLa cell lysate with Fibulin 3 antibody at (A) 0.5 and (B) 1 µg/ml.
Below: Immunocytochemistry of Fibulin 3 in HeLa cells with Fibulin 3 antibody at 20 μg/ml.
Other Product Images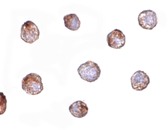 Source : Fibulin 3 antibody was raised against a 19 amino acid peptide near the carboxy terminus of human Fibulin 3.
Purification : Affinity chromatography purified via peptide column
Clonality and Clone : This is a polyclonal antibody.
Host : Fibulin 3 antibody was raised in rabbit. Please use anti-rabbit secondary antibodies.
Application : Fibulin 3 antibody can be used for detection of Fibulin 3 by Western blot at 0.5 - 1 µg/ml.
Tested Application(s) : E, WB
Buffer : Antibody is supplied in PBS containing 0.02% sodium azide.
Blocking Peptide : Cat.No. 5213P - Fibulin 3 Peptide
Long-Term Storage : Fibulin 3 antibody can be stored at 4ºC, stable for one year. As with all antibodies care should be taken to avoid repeated freeze thaw cycles. Antibodies should not be exposed to prolonged high temperatures.
Positive Control
1. Cat. No. 1201 - HeLa Cell Lysate
Species Reactivity :H, M, R
GI Number : 9665262
Accession Number : NP_004096
Short Description : EGF-containing fibulin-like extracellular matrix protein 1
References
1. Kobayashi N, Kostka G, Garbe JH, et al. A comparative analysis of the fibulin protein family. Biochemical characterization, binding interactions, and tissue localization. J. Biol. Chem. 2007; 282:11805-16.
2. Marmorstein LY, Munier FL, Arsenijevic Y, et al. Aberrant accumulation of EFEMP1 underlies drusen formation in Malattia Leventinese and age-related macular degeneration. Proc. Natl. Acad. Sci. USA 2002; 99:13067-72.
3. McLaughlin PJ, Bakall B, Choi J, et al. Lack of fibulin-3 causes early aging and herniation, but not macular degeneration in mice. Hum. Mol. Genet. 2007; 16:3059-70.
4. Seeliger H, Camaj P, Ischenko I, et al. EFEMP1 expression promotes in vivo tumor growth in human pancreatic adenocarcinoma. Mol. Cancer Res. 2009; 7:189-98.