TIGAR Antibody
Catalog# : 4049
The p53 tumor-suppressor gene integrates numerous signals that control cell life and death; loss of its functions contributes to the development of most cancers. Recent studies have demonstrated the ability of p53 to regulate the expression of several proteins involved in glycolysis and oxidative phosphorylation, such as TIGAR, SCO2, and phosphoglycerate mutase. TIGAR is a recently discovered protein that functions to regulate glycolysis and protect cells against oxidative stress. TIGAR is similar in structure to proteins in the phosphoglycerate mutase family, most notably 6-phosphofructo-2-kinase, suggesting TIGAR may function as a fructose bisphosphatase. Expression of TIGAR in transfected cells correlated with an inhibition of glycolysis and decreased levels of reactive oxygen species and p53-induced apoptosis, indicating that TIGAR may act to modulate the apoptotic response to p53, thereby allowing cells to survive mild or transient stresses.
Additional Names : TIGAR (IN1), Tp53-induced glycolysis and apoptosis regulator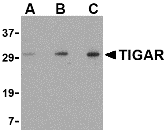 Description
Left: Western blot analysis of TIGAR in EL4 cell lysate with TIGAR antibody at (A) 0.5, (B) 1 and (C) 2 µg/ml.
Below: Immunohistochemistry of TIGAR in human brain tissue with TIGAR antibody at 2.5 µg/ml.
Other Product Images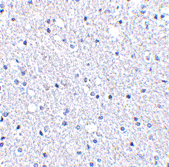 Source : TIGAR antibody was raised against a 18 amino acid peptide from near the center of human TIGAR.
Purification : Affinity chromatography purified via peptide column
Clonality and Clone : This is a polyclonal antibody.
Host : TIGAR antibody was raised in rabbit. Please use anti-rabbit secondary antibodies.
Application : TIGAR antibody can be used for detection of TIGAR by Western blot at 0.5 – 1 µg/ml.
Tested Application(s) : E, WB, IHC
Buffer : Antibody is supplied in PBS containing 0.02% sodium azide.
Blocking Peptide : Cat.No. 4049P - TIGAR Peptide
Long-Term Storage : TIGAR antibody can be stored at 4ºC, stable for one year. As with all antibodies care should be taken to avoid repeated freeze thaw cycles. Antibodies should not be exposed to prolonged high temperatures.
Positive Control
1. Cat. No. 1287 - EL4 Cell Lysate
2. Cat. No. 1303 - Human Brain Tissue Lysate
Species Reactivity :H, M, R
GI Number : 9966849
Accession Number : NP_065108
Short Description : (IN1) p53-induced glycolysis and apoptosis regulator
References
1. Guimaraes DP and Hainaut P. TP53: a key gene in human cancer. Biochimie 2002; 84:83-93.
2. Corcoran CA, Huang Y, and Sheikh MS. The regulation of energy generating pathways by p53. Cancer Biol. Ther. 2006; 5:1610-3.
3. Bensaad K, Tsuruta A, Selak MA, et al. TIGAR, a p53-inducible regulator of glycolysis and apoptosis. Cell 2006; 126:107-20.