CCDC134 Antibody
Catalog# : 5265
The coiled-coil domain is a common protein motif that is often involved in protein oligomerization and is found in proteins such as transcription factors and intermediate filaments. One such protein is CCDC134, a recently identified secretory protein that has been found to inhibit the transcriptional activity of the Elk1 protein. Overexpression CCDC134 also inhibited the phosphorylation of Erk and JNK/SAPK but not p38 MAPK, while specific siRNA against CCDC134 activated Elk1 transcriptional activity and the phosphorylation of Erk and JNK/SAPK, suggesting a potential inhibiting role of CCDC134 in MAPK-mediated Elk1 transcription. CCDC134 is widely expressing in normal adult tissues, tumors, and cell lines.
Additional Names : CCDC134, Coiled-coil domain containing 134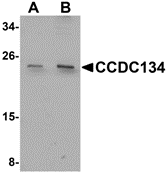 Description
Left: Western blot analysis of CCDC134 in rat brain tissue lysate with CCDC134 antibody at (A) 1 and (B) 2 µg/ml.
Below: Immunohistochemistry of CCDC134 in human brain tissue with CCDC134 antibody at 2.5 μg/ml.
Other Product Images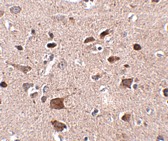 Source : CCDC134 antibody was raised against a 17 amino acid peptide near the amino terminus of human CCDC134.
Purification : Affinity chromatography purified via peptide column
Clonality and Clone : Polyclonal
Host : CCDC134 antibody was raised in rabbit. Please use anti-rabbit secondary antibodies.
Application : CCDC134 antibody can be used for detection of CCDC134 by Western blot at 1 - 2 µg/ml.
Tested Application(s) : E, WB
Buffer : Antibody is supplied in PBS containing 0.02% sodium azide.
Blocking Peptide : Cat.No. 5265P - CCDC134 Peptide
Long-Term Storage : CCDC134 antibody can be stored at 4ºC, stable for one year. As with all antibodies care should be taken to avoid repeated freeze thaw cycles. Antibodies should not be exposed to prolonged high temperatures.
Positive Control
1. Cat. No. 1463 - Rat Brain Tissue Lysate
Species Reactivity :H, M, R
GI Number : 13376216
Accession Number : NP_079097
Short Description : Coiled-coil domain containing 134
References
1. Steinmetz MO, Jelesarov I, Matousek WM, et al. Molecular basis of coiled-coil formation. Proc. Natl. Acad. Sci. USA 2007; 104:7062-7.
2. Huang J, Shi T, Ma T, et al. CCDC134, a novel secretory protein, inhibits activation of ERK and JNK, but not p38 MAPK. Cell. Mol. Life Sci. 2008; 65:338-49.