Bonzo Antibody
Catalog# : 2209
Human immunodeficiency virus (HIV) and simian immunodeficiency virus (SIV) require coreceptors, in addition to CD4, to infect target cells. Some G protein-coupled receptors including CCR5, CXCR4, CCR3, and CCR2b in the chemokine receptor family have been identified as HIV coreceptors. An orphan G protein-coupled receptor was recently cloned and designated Bonzo, STRL33 and TYMSTR, and identified as HIV and SIV coreceptor (1-4). Bonzo/STRL33 serves as coreceptor for SIV, HIV-2 and HIV-1. The messenger RNA of Bonzo/STRL33 is expressed in lymphoid tissues and activated peripheral blood lymphocytes.
Additional Names : Bonzo (NT2), STRL33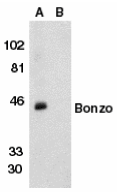 Description
Left: Western blot analysis of Bonzo in human spleen tissue lysate in the absence (lane A) or presence (lane B) of peptide with Bonzo antibody (NT2) at 1:500 dilution.
Below: Immunohistochemistry of Bonzo in human spleen cells with Bonzo antibody at 20 µg/ml.
Other Product Images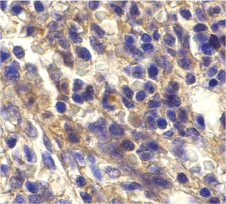 Source : Bonzo antibody was raised against a peptide corresponding to amino acids near the amino terminus of human Bonzo/STRL33. The sequence of this peptide differs from those of African green monkey and pig-tailed macaque by one or two amino acids, respectively,.
Purification : Affinity chromatography purified via peptide column
Clonality and Clone : This is a polyclonal antibody.
Host : Bonzo antibody was raised in rabbit. Please use anti-rabbit secondary antibodies.
Immunogen : Human Bonzo (N-Terminus 2) Peptide (Cat. No. 2209P)
Application : Bonzo antibody can be used for detection of Bonzo by Western blot at 1:500 dilution.
Tested Application(s) : E, WB, IHC
Buffer : Antibody is supplied in PBS containing 0.02% sodium azide.
Blocking Peptide : Cat. No. 2209P - Bonzo Peptide
Long-Term Storage : Bonzo antibody can be stored at 4ºC, stable for one year. As with all antibodies care should be taken to avoid repeated freeze thaw cycles. Antibodies should not be exposed to prolonged high temperatures.
Positive Control
1. Cat. No. 1306 - Human Spleen Tissue Lysate
Species Reactivity :H
GI Number : 2209284
Accession Number : U73529
Short Description : (NT2) HIV coreceptor
References
1. Deng HK, Unutmaz D, KewalRamani VN, Littman DR. Expression cloning of new receptors used by simian and human immunodeficiency viruses. Nature 1997;388:296-300
2. Liao F, Alkhatib G, Peden KW, Sharma G, Berger EA, Farber JM. STRL33, A novel chemokine receptor-like protein, functions as a fusion cofactor for both macrophage-tropic and T cell line-tropic HIV-1. J Exp Med 1997;185:2015-23
3. Alkhatib G, Liao F, Berger EA, Farber JM, Peden KW. A new SIV co-receptor, STRL33. Nature 1997;388:238
4. Loetscher M, Amara A, Oberlin E, Brass N, Legler D, Loetscher P, D'Apuzzo M, Meese E, Rousset D, Virelizier JL, Baggiolini M, Arenzana-Seisdedos F, Moser B. TYMSTR, a putative chemokine receptor selectively expressed in activated T cells, exhibits HIV-1 coreceptor function. Curr Biol 1997;7:652-60 (RD0400)