TCCR Antibody
Catalog# : 2481
Upon antigen challenge, T-helper cells differentiate into two functional distinct subsets, Th1 and Th2. Th1 cells produce IL-2, IFN-gamma and lymphotoxin-beta that augment cell mediated immune response while Th2 cells secrete IL-4, IL-5, and IL-10 that enhance humoral immunity. The function of T-helper cells is regulated by cytokines. A novel cytokine receptor was recently identified and cloned (1,2). It is a new member in the type I cytokine receptor family and designated TCCR for T-cell cytokine receptor and WSX-1 (1,2). TCCR deficient mice had impaired Th1 responses to protein antigen challenge, including decreased levels of IFN-gamma and Th1-dependent

antibody

IgG2a . TCCR is predominately expressed in thymus, spleen, lymph notes and peripheral blood leukocytes.
Additional Names : TCCR (NT), Type I T-cell cytokine receptor, IL-27 receptor alpha, IL-27Ra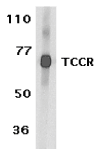 Description
Left: Western blot analysis of TCCR expression in human spleen tissue lysates with TCCR antibody at 1 µg /ml.
Below: Immunohistochemistry of TCCR in human spleen tissue with TCCR

antibody

at 10 µg/ml.
Other Product Images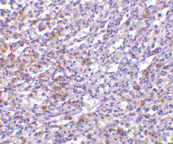 Source : TCCR antibody was raised against a

synthetic peptide

corresponding to amino acids near the amino terminus of human TCCR precursor.
Purification : Affinity chromatography purified via peptide column
Clonality and Clone : This is a

polyclonal antibody

.
Host : TCCR antibody was raised in rabbit. Please use anti-rabbit secondary antibodies.
Immunogen : Human TCCR (N-Terminus)

Peptide

(Cat. No. 2481P)
Application : TCCR antibody can be used for detection of TCCR by Western blot at 0.5 to 1 µg/ml.An approximately 70 kDa band can be detected.
Tested Application(s) : E, WB, IHC
Buffer : Antibody is supplied in PBS containing 0.02% sodium azide.
Blocking Peptide : Cat. No. 2481P - TCCR Peptide
Long-Term Storage : TCCR antibody can be stored at 4ºC, stable for one year. As with all antibodies care should be taken to avoid repeated freeze thaw cycles. Antibodies should not be exposed to prolonged high temperatures.
Positive Control
1. Cat. No. 1306 - Human Spleen Tissue Lysate
Species Reactivity :H
GI Number : 4759328
Accession Number : NP_004834
Short Description : (NT) A new T cell cytokine receptor
References
1. Chen Q, Ghilardi N, Wang H, Baker T, Xie MH, Gurney A, Grewal IS and de Sauvage FJ. Development of Th1-type immune responses requires the type I cytokine receptor TCCR Nature 2000;407(6806):916-920
2. Sprecher,C.A., Grant,F.J., Baumgartner,J.W., Presnell,S.R., Schrader,S.K., Yamagiwa,T., Whitmore,T.E., O'Hara,P.J. and Foster,D.F. Cloning and characterization of a novel class I cytokine receptor Biochem. Biophys. Res. Commun. 1998;246(1):82-90