PALB2 Antibody
Catalog# : 5275
The breast cancer early onset proteins BRCA1 and BRCA2 are central to the repair of DNA damage by homologous recombination and are strongly associated with inherited breast and ovarian cancer. The protein PALB2 is required for the localization of BRCA2 to sites of DNA damage and like BRCA1 and 2 is a breast cancer susceptibility gene. PALB2 is thought to function through directly binding to BRCA1, which allows the PALB2 protein to organize BRCA2 and the recombinase RAD51 at the site of DNA damage. Analysis of the BRCA1-PALB2-BRCA2-RAD51network may allow predictions to be made of the responsiveness of a particular tumor to therapeutic treatments. At least four isoforms of PALB2 are known to exist.
Additional Names : PALB2,Partner and localizer of BRCA2, FANCN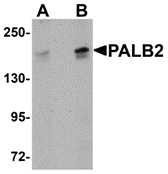 Description
Left:
Western blot analysis of PALB2 in SK-N-SH cell lysate with PALB2 antibody at (A) 1 and (B) 2 µg/ml.
Source : PALB2 antibody was raised against a 15 amino acid peptide from near the carboxy terminus of human PALB2.
Purification : Affinity chromatography purified via peptide column
Clonality and Clone : This is a polyclonal antibody.
Host : PALB2 antibody was raised in rabbit. Please use anti-rabbit secondary antibodies.
Application : PALB2 antibody can be used for detection of PALB2 by Western blot at 1 - 2 µg/ml.
Tested Application(s) : E, WB
Buffer : Antibody is supplied in PBS containing 0.02% sodium azide.
Blocking Peptide : Cat.No. 5275P - PALB2 Peptide
Long-Term Storage : PALB2 antibody can be stored at 4ºC, stable for one year. As with all antibodies care should be taken to avoid repeated freeze thaw cycles. Antibodies should not be exposed to prolonged high temperatures.
Positive Control
1. Cat. No. 1220 - SK-N-SH Cell Lysate
Species Reactivity :H, M, R
GI Number : 74727919
Accession Number : Q86YC2
Short Description : Partner and localizer of BRCA2
References
1. Greenberg RA. Recognition of DNA double strand breaks by the BRCA1 tumor suppressor network. Chromosoma 2008; 117:305-17.
2. Xia B, Sheng Q, Nakanishi K, et al. Control of BRCA2 cellular and clinical functions by a nuclear partner, PALB Mol. Cell 2007; 22:719-29.
3. Rahman N, Seal S, Thompson D, et al. PALB2, which encodes a BRCA2-interacting protein, is a breast cancer susceptibility gene. Nat. Genet. 2007; 39:165-7.
4. Zhang F, Fan Q, Ren K, et al. PALB2 functionally connects the breast cancer susceptibility proteins BRCA1 and BRCA2. Mol. Cancer. Res. 2009; 7:1110-8.