ZBRK1 Antibody
Catalog# : 4817


ZBRK1 is a member of the Kruppel-associated box-zinc finger protein (KRAB-ZFP) protein family of transcriptional repressors. ZBRK1 has been shown to not only be up-regulated in senescent fibroblasts but also interacts with BRCA1, a transcriptional regulator with tumor suppressor activity. ZBRK1 binds to a specific sequence within the GADD45 gene, supporting the assembly of a nuclear complex containing BRCA1 and repressing its transcription. Recent experiments demonstrate that ZBRK1 can homo-oligomerize in vitro and in vivo through a C-terminal transcriptional repression domain (CTRD), and this oligomerization facilitates the ZBRK1-directed transcriptional repression through ZBRK1 response elements. These results suggest that higher order ZBRK1 oligomers may assemble through both protein-DNA and CTRD-dependent protein-protein interactions.
Additional Names : ZBRK1, Zinc finger protein 350, ZNF350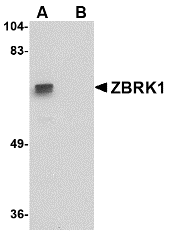 Description
Left:
Western blot analysis of ZBRK1 in A-20 lysate with ZBRK1 antibody at 1 µg/ml in (A) the absence and (B) the presence of blocking peptide.
Source : ZBRK1 antibody was raised against a 20 amino acid peptide near the carboxy terminus of the human ZBRK1.
Purification : Affinity chromatography purified via peptide column
Clonality and Clone : This is a polyclonal antibody.
Host : ZBRK1 antibody was raised in rabbit. Please use anti-rabbit secondary antibodies.
Application : ZBRK1 antibody can be used for detection of ZBRK1 by Western blot at 1 – 2 µg/ml.
Tested Application(s) : E, WB
Buffer : Antibody is supplied in PBS containing 0.02% sodium azide.
Blocking Peptide : Cat.No. 4817P - ZBRK1 Peptide
Long-Term Storage : ZBRK1 antibody can be stored at 4ºC, stable for one year. As with all antibodies care should be taken to avoid repeated freeze thaw cycles. Antibodies should not be exposed to prolonged high temperatures.
Positive Control
1. Cat. No. 1288 - A20 Cell Lysate
Species Reactivity :H, M, R
GI Number : 59710107
Accession Number : NP_067645
Short Description : Zinc finger protein 350
References
1. Zheng L, Pan H, Li S, et al. Sequence-specific transcription corepressor function for BRCA1 through a novel Zinc finger protein, ZBRK1. Mol. Cell 2000; 6:757-68.
2. Collins T, Stone JR, and Williams AJ. All in the family: the BTB/POZ, KRAB, and SCAN domains. Mol. Cell. Biol. 2001; 21:3609-15.
3. Tan W, Kim S, and Boyer TG. Tetrameric oligomerization mediates transcriptional repression by the BRCA1-dependent Kruppel-associated Box-Zinc finger protein ZBRK1. J. Biol. Chem. 2004; 279:55153-60.