OTUD4 Antibody
Catalog# : 5075
OTUD4, also known as HIV-1 induced protein HIN-1, is a member of the OTU (ovarian tumor) domain containing cysteine protease superfamily, in which the OUT domain generally confers deubiquitinase activity. At least three isoforms of OTUD4 are known to exist, and the smallest of these isoforms are only expressed in HIV-1-infected cells (provided by RefSeq). This antibody is predicted to not cross-react with other members of the OTUD family.
Additional Names : OTUD4, OTU domain containing 4, HIN1, DUBA6, HSHIN1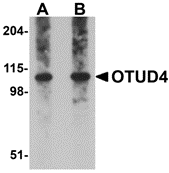 Description
Left: Western blot analysis of OTUD4 in Daudi cell lysate with OTUD4 antibody at (A) 0.25 and (B) 0.5 µg/ml.
Below: Immunocytochemistry of OTUD4 in Daudi cells with OTUD4 antibody at 2.5 μg/ml.
Other Product Images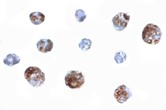 Source : OTUD4 antibody was raised against an 18 amino acid peptide near the carboxy terminus of human OTUD4.
Purification : Affinity chromatography purified via peptide column
Clonality and Clone : This is a polyclonal antibody.
Host : OTUD4 antibody was raised in rabbit. Please use anti-rabbit secondary antibodies.
Application : OTUD4 antibody can be used for detection of OTUD4 by Western blot at 0.25 – 0.5 µg/ml.
Tested Application(s) : E, WB
Buffer : Antibody is supplied in PBS containing 0.02% sodium azide.
Blocking Peptide : Cat.No. 5075P - OTUD4 Peptide
Long-Term Storage : OTUD4 antibody can be stored at 4ºC, stable for one year. As with all antibodies care should be taken to avoid repeated freeze thaw cycles. Antibodies should not be exposed to prolonged high temperatures.
Positive Control
1. Cat. No. 1224 - Daudi Cell Lysate
Species Reactivity :H, M, R
GI Number : 156630992
Accession Number : NP_001096123
Short Description : OTU domain containing 4
References
1. Borodovsky A, Ovaa H, Kolli N, et al. Chemistry-based functional genomics reveals novel members of the deubiquitinating enzyme family. Chem. Biol. 2002; 10:1149-59.