CCR3 Antibody
Catalog# : 1109
Human immunodeficiency virus (HIV) and related virus require coreceptors to infect target cells. Some G protein-coupled receptors including CCR5, CXCR4, CCR3, CCR2b, CCR8, GPR15, STRL33, and CX3CR1 in the chemokine receptor family were recently identified as HIV coreceptors. CCR5, CXCR4 and CCR3 are the principal receptors for HIV fusion and entry of target cells (1-4). CCR3 facilitates infection by a subset of virus. CCR3 and CCR5 promote efficient infection of microglia, the major target cells in the CNS (3,4). High levels of CCR3 and CXCR4 expression were found on the neurons from both the central and peripheral nervous systems (5). The CCR3 ligand, eotaxin, and an anti-CCR3 antibody inhibited HIV infection of microglia. These results indicate CCR3 plays an important role in HIV infection of CNS.
Additional Names : CCR3 (NT), CC chemokine receptor 3, eosinophil eotaxin receptor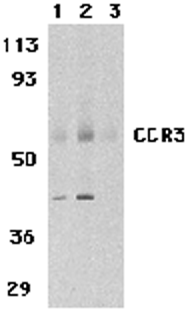 Description
Left: Western blot analysis of CCR3 in human spleen tissue lysates with CCR3 antibody at 1 (lane 1) and 2 µg/ml (lane 2), and 2 µg/ml in the presence of blocking peptide (lane 3).
Source : CCR3 antibody was raised against a 14 amino acid peptide from near the amino terminus of human CCR3.
Purification : Immunoaffinity purified IgG
Clonality and Clone : This is a polyclonal antibody.
Host : CCR3 antibody was raised in rabbit. Please use anti-rabbit secondary antibodies.
Immunogen : Human CCR3 (N-Terminus) Peptide (Cat. No. 1109P)
Application : CCR3 antibody can be used for the detection of CCR3 by Western blot at 1 – 2 µg/ml.
Tested Application(s) : E, WB
Buffer : Antibody is supplied in PBS containing 0.02% sodium azide.
Blocking Peptide : Cat. No. 1109P - CCR3 Peptide
Long-Term Storage : CCR3 antibody can be stored at 4ºC, stable for one year. As with all antibodies care should be taken to avoid repeated freeze thaw cycles. Antibodies should not be exposed to prolonged high temperatures.
Positive Control
1. Cat. No. 1306 - Human Spleen Tissue Lysate
Species Reactivity :H, M, R
GI Number : 30581170
Accession Number : NP_847899
Short Description : (NT) HIV and chemokine receptor
References
1. Feng Y, Broder CC, Kennedy PE, et al. HIV-1 entry cofactor: functional cDNA cloning of a seven-transmembrane, G protein-coupled receptor. Science 1996; 272:872-7.
2. Deng H, Liu R, Ellmeier W, et al. Identification of a major co-receptor for primary isolates of HIV-1. Nature 1996; 381:661-6.
3. Choe H, Farzan M, Sun Y, et al. The beta-chemokine receptors CCR3 and CCR5 facilitate infection by primary HIV-1 isolates. Cell 1996; 85:1135-48.
4. He J, Chen Y, Farzan M, et al. CCR3 and CCR5 are co-receptors for HIV-1 infection of microglia. Nature 1997; 385:645-9.