CUEDC2 Antibody
Catalog# : 4839
The CUE (coupling of ubiquitin conjugation to endoplasmic reticulum degradation) domain is an evolutionarily conserved, ~40 amino acid monoubiquitin-binding domain that mediates intramolecular monoubiquitylation. CUE domains are present in eukaryotic proteins that are involved in ubiquitination and protein trafficking pathways and may be required for ubiquitination of the proteins in which they are found. CUEDC2 (CUE domain-containing protein 2) was found through a yeast two-hybrid screening as a protein that interacts with the progesterone receptor (PR) and promotes progesterone-induced PR degradation by the ubiquitin-proteasome pathway. CUEDC2 also decreases the sumoylation of PR. CUEDC2 has also been found to interact with IKK-a and IKK-b and decrease the activation of NF-kB by decreasing the activation of IKK. CUEDC2 antibody will not cross-react with CUEDC1.
Additional Names : CUEDC2, CUE Domain-Containing Protein 2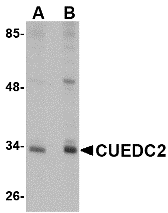 Description
Left: Western blot analysis of CUEDC2 in HeLa cell lysate with CUEDC2 antibody at (A) 1 and (B) 2 µg/ml.
Below: Immunocytochemistry of CUEDC2 in HeLa cells with CUEDC2 antibody at 5 µg/ml.
Other Product Images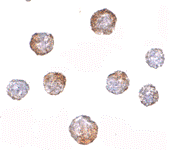 Source : CUEDC2 antibody was raised against a 19 amino acid peptide from near the carboxy terminus of human CUEDC2.
Purification : Affinity chromatography purified via peptide column
Clonality and Clone : This is a polyclonal antibody.
Host : CUEDC2 antibody was raised in rabbit. Please use anti-rabbit secondary antibodies.
Application : CUEDC2 antibody can be used for detection of CUEDC2 by Western blot at 1 – 2 µg/ml.
Tested Application(s) : E, WB, ICC
Buffer : Antibody is supplied in PBS containing 0.02% sodium azide.
Blocking Peptide : Cat.No. 4839P - CUEDC2 Peptide
Long-Term Storage : CUEDC2 antibody can be stored at 4ºC, stable for one year. As with all antibodies care should be taken to avoid repeated freeze thaw cycles. Antibodies should not be exposed to prolonged high temperatures.
Positive Control
1. Cat. No. 1201 - HeLa Cell Lysate
Species Reactivity :H, M, R
GI Number : 148596996
Accession Number : NP_076945
Short Description : CUE Domain-Containing Protein 2
References
1. Shih SC, Prag G, Francis SA, et al. A ubiquitin-binding motif required for intramolecular monoubiquitylation, the CUE domain. EMBO J. 2003; 22:1273-81.
2. Ponting CP. Proteins of the endoplasmic-reticulum-associated degradation pathway: domain detection and function prediction. Biochem. J. 2000; 351:527-35.
3. Prag G, Misra S, Jones EA, et al. Mechanism of ubiquitin recognition by the CUE domain of Vps9p. Cell 2003; 113:609-20.
4. Kang RS, Daniels CM, Francis SA, et al. Solution structure of a CUE-ubiquitin complex reveals a conserved mode of ubiquitin binding. Cell 2003; 113:621-30.