Eotaxin Antibody
Catalog# : 1123
Chemokines play a key role in inflammation. The CC chemokine eotaxin is a potent and specific eosinophil chemoattractant that is expressed by a variety of cell types in certain inflammatory conditions. Some G-protein coupled chemokine receptors are also utilized as virus coreceptors for fusion and infection of cells. The eotaxin receptor CCR3 is required for HIV-1 entry into target cells such as microglia and eotaxin inhibits the infection of HIV-1.
Additional Names : Eotaxin (CT), Eotaxin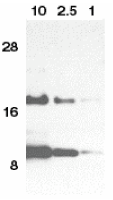 Description
Left: Western blot analysis of eotaxin in HeLa cell lysate containing 10, 2.5, or 1 ng of full length recombinant eotaxin with eotaxin antibody at 1 µg/ml.
Below: Immunocytochemistry of Eotaxin in 293 cells with Eotaxin antibody at 5 µg/ml.
Other Product Images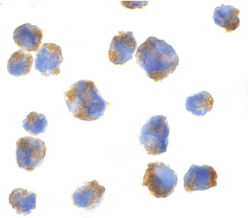 Source : Eotaxin antibody was raised in rabbits against a peptide corresponding to amino acids near the carboxy terminus of human eotaxin.
Purification : Antibody is DEAE purified
Clonality and Clone : This is a polyclonal antibody.
Host : Eotaxin antibody was raised in rabbit. Please use anti-rabbit secondary antibodies.
Immunogen : Human Eotaxin Peptide (Cat. No. 1123P)
Application : Eotaxin antibody can be used for detection of eotaxin by Western blot at 0.5 to 1 µg/ml.The recombinant protein can be used as positive control and monomer and homodimer are detected at approximate 9 and 18 kDa.
Tested Application(s) : E, WB, ICC
Buffer : Antibody is supplied in PBS containing 0.02% sodium azide.
Blocking Peptide : Cat. No. 1123P - Eotaxin Peptide
Long-Term Storage : Eotaxin antibody can be stored at 4ºC, stable for one year. As with all antibodies care should be taken to avoid repeated freeze thaw cycles. Antibodies should not be exposed to prolonged high temperatures.
Positive Control
1. Cat. No. 1201 - HeLa Cell Lysate
Species Reactivity :H
GI Number : 2462478
Accession Number : CAB07027
Short Description : (CT) CCR3 ligand
References
1. Kitaura M, Nakajima T, Imai T, et al. Molecular cloning of human eotaxin, an eosinophil-selective CC chemokine, and identification of a specific eosinophil eotaxin receptor, CC chemokine receptor 3. J Biol Chem 1996;271:7725-30
2. Ponath PD, Qin S, Ringler DJ, et al. Cloning of the human eosinophil chemoattractant, eotaxin. Expression, receptor binding, and functional properties suggest a mechanism for the selective recruitment of eosinophils. J Clin Invest 1996;97:604-12
3. He J, Chen Y, Farzan M, et al. CCR3 and CCR5 are co-receptors for HIV-1 infection of microglia. Nature. 1997;385(6617):645-9
4. Choe H, Farzan M, Sun Y, et al. The beta-chemokine receptors CCR3 and CCR5 facilitate infection by primary HIV-1 isolates. Cell. 1996;85:1135-48 (WD0500)