Trail Antibody
Catalog# : 1113
Apoptosis, or programmed cell death, occurs during normal cellular differentiation and development of multicellular organisms. Apoptosis is induced by certain cytokines including TNF and Fas ligand in the TNF family through their death domain containing receptors, TNFR1 and Fas. A novel member in the TNF family was recently identified and designated TRAIL (for TNF-related apoptosis-inducing ligand) and Apo-2L (for Apo-2 ligand)1,TRAIL is a type II membrane protein and expressed in a variety of human tissues. Two novel death domain containing receptors DR4 and DR5 have been identified as the receptor for TRAIL3-6. Like TNF and Fas ligand, TRAIL induces apoptosis and NF-kappaB activation in many tissues and cells.
Additional Names : Trail (CT), Apo-2L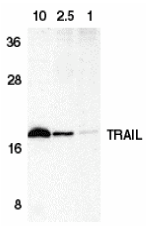 Description
Left: Western blot analysis of TRAIL in HeLa cell lysate containing 10, 2.5, or 1 ng of recombinant protein containing extracellular domain of TRAIL with TRAIL antibody at 1 µg/ml.
Below: Immunohistochemistry of TRAIL in human brain tissue with TRAIL
antibody
at 20 µg/ml.
Other Product Images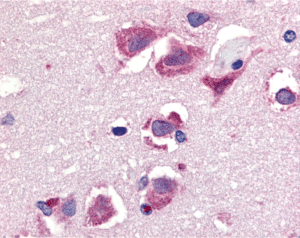 Source : TRAIL antibody was raised against a peptide corresponding to amino acids near the carboxy terminus of human TRAIL.
Purification : Ion exchange chromatography purified
Clonality and Clone : This is a
polyclonal antibody
.
Host : Trail antibody was raised in rabbit. Please use anti-rabbit secondary antibodies.
Immunogen : Human TRAIL (C-Terminus)
Peptide
(Cat. No. 1113P)
Application : TRAIL antibody can be used for detection of TRAIL by Western blot at 1 µg/ml dilution.
Tested Application(s) : E, WB, IHC
Buffer : Antibody is supplied in PBS containing 0.02% sodium azide.
Blocking Peptide : Cat. No. 1113P - Trail
Peptide
Long-Term Storage : Trail antibody can be stored at 4ºC, stable for one year. As with all antibodies care should be taken to avoid repeated freeze thaw cycles. Antibodies should not be exposed to prolonged high temperatures.
Positive Control
1. Cat. No. 1201 - HeLa Cell Lysate
2. Cat. No. 1303 - Human Brain Tissue Lysate
Species Reactivity :H
GI Number : 4507593
Accession Number : NP_003801
Short Description : (CT) Ligand for DR4 and DR5
References
1. Wiley SR, Schooley K, Smolak PJ, Din WS, Huang CP, Nicholl JK, Sutherland GR, Smith TD, Rauch C, Smith CA, et al. Identification and characterization of a new member of the TNF family that induces apoptosis. Immunity 1995;3:673-682
2. Pitti RM; Marsters SA; Ruppert S; Donahue CJ; Moore A; Ashkenazi A. Induction of apoptosis by Apo-2 ligand, a new member of the tumor necrosis factor cytokine family. J. Biol. Chem. 1996;271:12687-90
3. Pan G; O'Rourke K; Chinnaiyan AM; O'Rourke K; Gentz R; Ebner R; Ni J; Dixit VM. The receptor for the cytotoxic ligand TRAIL. Science; 1997;276:111-113
4. Schneider P, Thome M, Burns K, Bodmer JL, Hofmann K, Kataoka T, Holler N, Tschopp J. TRAIL receptors 1 (DR4) and 2 (DR5) signal FADD-dependent apoptosis and activate NF-kappaB. Immunity 1997;7:831-836