MACC1 Antibody
Catalog# : 5197
Metastasis associated in colon cancer 1 (MACC1) is a key regulator of the hepatocyte growth factor (HGF)-HGF receptor (MET) pathway, which is involved in cellular growth, epithelial-mesenchymal transition, angiogenesis, cell motility, invasiveness, and metastasis. MACC1 protein consists of four domains: ZU5, SH3, and two C-terminal death domains (DD). Expression of MACC1 was found significantly upregulated in malignant tissues (colon cancer of all stages as well as liver and lung metastases) compared to normal tissues or adenomas. MACC1 represents an early and crucial prognostic indicator for colon cancer metastasis that is independent of age, sex, tumor infiltration, nodal status, and lymph vessel invasion. Besides its involvement in signal transduction with the MET receptor, MACC1 also links MET signaling and apoptosis. MACC1 may also be an important therapeutic target for colorectal cancer treatment. At least two isoforms of MACC1 are known to exist.
Additional Names : MACC1 (IN), Metastasis associated in colon cancer 1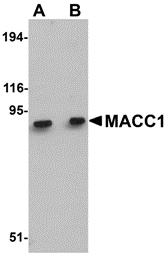 Description
Left: Western blot analysis of MACC1 in mouse liver tissue lysate with MACC1 antibody at (A) 1 and (B) 2 µg/ml.
Below: Immunohistochemistry of MACC1 in human liver tissue with MACC1 antibody at 2.5 μg/ml.
Other Product Images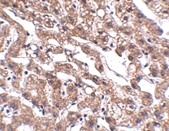 Source : MACC1 antibody was raised against a 17 amino acid peptide near the center of human MACC1.
Purification : Affinity chromatography purified via peptide column
Clonality and Clone : This is a polyclonal antibody.
Host : MACC1 antibody was raised in rabbit. Please use anti-rabbit secondary antibodies.
Application : MACC1 antibody can be used for detection of MACC1 by Western blot at 1-2 µg/ml.
Tested Application(s) : E, WB
Buffer : Antibody is supplied in PBS containing 0.02% sodium azide.
Blocking Peptide : Cat.No. 5197P - MACC1 Peptide
Long-Term Storage : MACC1 antibody can be stored at 4ºC, stable for one year. As with all antibodies care should be taken to avoid repeated freeze thaw cycles. Antibodies should not be exposed to prolonged high temperatures.
Positive Control
1. Cat. No. 1404 - Mouse Liver Tissue Lysate
Species Reactivity :H, M
GI Number : 32997046
Accession Number : AJ313524
Short Description : (IN) Metastasis associated in colon cancer 1
References
1. Stein U, Walther W, Arlt F, et al. MACC1, a newly identified key regulator of HGF-MET signaling, predicts colon cancer metastasis. Nat. Med. 2009; 15:59-67.
2. Boardman LA. Overexpression of MACC1 leads to downstream activation of HGF/MET and potentiates metastasis and recurrence of colorectal cancer. Genome Med. 2009; 1:36.
3. Stein U, Smith J, Walther W, et al. MACC1 controls Met: what a difference an Sp1 site makes. Cell Cycle 2009; 8:2467-9.
4. Arlt F and Stein U. Colon cancer metastasis: MACC1 and Met as metastatic pacemakers. Int. J. Biochem. Cell Biol. 2009; epub.