FAM120A Antibody
Catalog# : 5307
FAM120A (C9orf10) is a member of the constitutive coactivator of PPAR gamma family and the gene was mapped to chromosome 9q22.31. FAM120A was recently detected within the Pur-alpha-containing mRNA-protein complex in the brain. As a novel RNA-binding protein, FAM120A is a critical component of the oxidative stress-induced survival signaling. It may participate in mRNA transport in the cytoplasm. FAM120A activates src family kinases and acts as a scaffolding protein enabling src family kinases to phosphorylate and activate PI3-kinase. FAM120A protects cells from apoptosis through activation of SRKs in response to oxidative stress. Blocking of the survival signaling mediated by FAM120A, which sensitizes the cancer cells to stress-induced apoptosis, may be a novel therapeutic approach for gastric scirrhous carcinoma cells. This antibody will not cross-reacti with FAM120B / PGCC1.
Additional Names : FAM120A,Constitutive coactivator of PPAR-gamma-like protein 1, DNAPTP1, DNAPTP5, Oxidative stress-associated Src activator, OSSA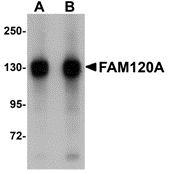 Description
Left: Western blot analysis of FAM120A in SK-N-SH cell lysate with FAM120A antibody at (A) 0.5 and (B) 1 µg/ml.
Source : FAM120A antibody was raised against an 18 amino acid peptide from near the center of human FAM120A.
Purification : Affinity chromatography purified via peptide column
Clonality and Clone : Polyclonal
Host : FAM120A antibody was raised in rabbit. Please use anti-rabbit secondary antibodies.
Application : FAM120A antibody can be used for detection of FAM120A by Western blot at 0.5 - 1 µg/ml.
Tested Application(s) : E, WB
Buffer : Antibody is supplied in PBS containing 0.02% sodium azide.
Blocking Peptide : Cat.No. 5307P - FAM120A Peptide
Long-Term Storage : FAM120A antibody can be stored at 4ºC, stable for one year. As with all antibodies care should be taken to avoid repeated freeze thaw cycles. Antibodies should not be exposed to prolonged high temperatures.
Positive Control
1. Cat. No. 1220 - SK-N-SH Cell Lysate
Species Reactivity :H, M, R
GI Number : 39652628
Accession Number : NP_055427
Short Description : Constitutive coactivator of PPAR-gamma-like protein 1
References
1. Holden S and Raymond FL. The human gene CXorf17 encodes a member of a novel family of putative transmembrane proteins: cDNA cloning and characterization of CXorf17 and its mouse ortholog orf34. Gene 2003; 318:149-61.
2. Kobayashi Y, Suzuki K, Kobayashi H, et al. C9orf10 protein, a novel protein component of Puralpha-containing mRNA-protein particles (Puralpha-mRNPs): characterization of developmental and regional expressions in the mouse brain. J. Histochem. Cytochem. 2008; 56:723-31.
3. Tanaka M, Sasaki K, Kamata R, et al. A novel RNA-binding protein, Ossa/C9orf10, regulates activity of Src kinases to protect cells from oxidative stress-induced apoptosis. Mol. Cell. Biol. 2009; 29:402-13.