JMJD1B Antibody
Catalog# : 5369
The jumonji domain containing 1B protein (JMJD1B) was originally discovered as a candidate for the myeloid leukemia tumor suppressor gene. Besides CD34+ cells and acute myeloid leukemia (AML) cell lines, JMJD1B mRNA is highly expressed in liver, heart, kidney, skeletal muscle, and placenta tissues. The JMJD1B gene is localized to a region of chromosome 5q31, which is frequently deleted in myeloid leukemias and myelodysplasias and expression of JMJD1B in a del(5q) cell line results in suppression of clonogenic growth suggesting that JMJD1B may function as a tumor suppressor. In contrast, JMJD1B gene copy number and mRNA expression level was increased in several non-small cell lung cancers indicating that the role of JMJD1B in cancer formation and progression is more complex than originally postulated. At least three isoforms of JMJD1B are known to exist. This antibody will not cross-react with JMJD1A or JMJD1C.
Additional Names : JMJD1B,5qNCA, Lysine-specific demethylase 3B, KDM3B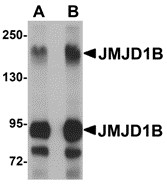 Description
Left: Western blot analysis of JMJD1B in rat liver tissue lysate with JMJD1B antibody at (A) 1 and (B) 2 µg/ml.
Source : JMJD1B antibody was raised against a 20 amino acid peptide from near the center of human JMJD1B.
Purification : Affinity chromatography purified via peptide column
Clonality and Clone : Polyclonal
Host : JMJD1B antibody was raised in rabbit. Please use anti-rabbit secondary antibodies.
Application : JMJD1B antibody can be used for detection of JMJD1B by Western blot at 1 - 2 µg/ml.
Tested Application(s) : E, WB
Buffer : Antibody is supplied in PBS containing 0.02% sodium azide.
Blocking Peptide : Cat.No. 5369P - JMJD1B Peptide
Long-Term Storage : JMJD1B antibody can be stored at 4ºC, stable for one year. As with all antibodies care should be taken to avoid repeated freeze thaw cycles. Antibodies should not be exposed to prolonged high temperatures.
Positive Control
1. Cat. No. 1464 - Rat Liver Tissue Lysate
Species Reactivity :H, M, R
GI Number : 119582545
Accession Number : EAW62141
Short Description : Lysine-specific demethylase 3B
References
1. Lai F, Godley LA, Fernald AA, et al. cDNA cloning and genomic structure of three genes localized to human chromosome band 5q31 encoding potential nuclear proteins. Genomics 2000; 70:123-30.
2. Hu Z, Gomes I, Horrigan SK, et al. A novel nuclear protein, 5qNCA (LOC51780) is a candidate for the myeloid leukemia tumor suppressor gene on chromosome band q31. Oncogene 2001; 20:6946-54.
3. Baik S-H, Jee B-K, Choi J-S, et al. DNA profiling by array comparative genomic hybridization (CGH) of peripheral blood mononuclear cells (PBMC) and tumor tissue cell in non-small cell lung cancer (NSCLC). Mol. Biol. Rep. 2009; 36:1767-78.