HINT1 Antibody



Catalog# : 4815

Histidine triad nucleotide-binding protein 1 (HINT1) is a member of the histidine triad (HIT) protein family, a group of small nucleotide-binding and –hydrolyzing proteins. HINT1 interacts with several diverse proteins and has been suggested to have tumor suppressive activities. HINT1 catalyzes the hydrolysis of adenosine 5'-monophoramidate substrates such as AMP-morpholidate, but its enzymatic function does not appear to play a role in its tumor suppression. Recent experiments demonstrate that HINT1 forms a complex with POSH and JNK in vivo, inhibiting AP-1 activity and the phosphorylation of c-Jun, and this action could contribute to the tumor suppressor activity of HINT1. Other studies raise the possibility of HINT1 as a candidate gene for schizophrenia.

Additional Names : HINT1,Histidine triad nucleotide-binding protein 1, HINT, PKC inhibitory protein, PKCI-1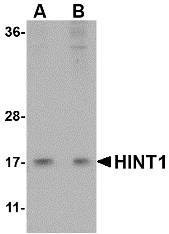 Description
Left: Western blot analysis of HINT1 in Jurkat lysate with HINT1 antibody at (A) 1 and (B) 2 µg/ml.

Below: Immunocytochemistry of HINT1 in Jurkat cells with HINT1 antibody at 2.5 µg/ml.

Other Product Images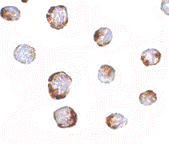 Source : HINT1 antibody was raised against a 17 amino acid peptide near the center of the human HINT1.
Purification : Affinity chromatography purified via peptide column
Clonality and Clone : This is a polyclonal antibody.
Host : HINT1 antibody was raised in rabbit. Please use anti-rabbit secondary antibodies.
Application : HINT1 antibody can be used for detection of HINT1 by Western blot at 1 – 2 µg/ml.
Tested Application(s) : E, WB, ICC
Buffer : Antibody is supplied in PBS containing 0.02% sodium azide.
Blocking Peptide : Cat.No. 4815P - HINT1 Peptide
Long-Term Storage : HINT1 antibody can be stored at 4ºC, stable for one year. As with all antibodies care should be taken to avoid repeated freeze thaw cycles. Antibodies should not be exposed to prolonged high temperatures.
Positive Control
1. Cat. No. 1205 - Jurkat Cell Lysate
Species Reactivity :H, M, R
GI Number : 4885413
Accession Number : NP_005331
Short Description : Histidine triad nucleotide-binding protein 1
References
1. Lima CD, Klein MG, Weinstein IB, et al. Three-dimensional structure of human protein kinase C interacting protein 1, a member of the HIT family of proteins. Proc. Natl. Acad. Sci. USA 1996; 93:5357-62.
2. Weiske J and Huber O. Beta-catenin takes a HIT. Cell Cycle 2008; 7:1326-31.
3. Wang L, Zhang Y, Li H, et al. Hint1 inhibits growth and activator protein-1 activity in human colon cancer cells. Cancer Res. 2007; 67:4700-8.
4. Chen Q, Wang X, O'Neill FA, et al. Is the histidine triad nucleotide-binding protein 1 (HINT1) gene a candidate for schizophrenia? Schizophr. Res. 2008; 106:200-7.