TL1A Antibody
Catalog# : 3109
Members in the TNF and its receptor superfamilies regulate immune responses and induce apoptosis. DR3 (also termed Wsl-1, Apo-3, TRAMP, and LARD) (1-5) is preferentially expressed by T lymphocytes and upregulated during T cell activation. The ligand for DR3 was recently identified and designated TL1A (6). TL1A also binds decoy receptor DcR3/TR6 (7,8), which is expressed in several lung and colon carcinomas and in some normal tissues. TL1A induces apoptosis and NF-kappaB activation in DR3 expressing cells, which is antagonized by DcR3. TL1A is upregulated by proinflammatory cytokines TNF and IL-1. TL1A is a longer variant of TL1 (also called VEGI).
Additional Names : TL1A (NT), TL1A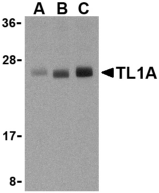 Description
Left: Western blot analysis of TL1A in PC-3 cell lysates with TL1A antibody at (A) 0.5, (B) 1, and (C) 2 µg/ml.
Source : TL1A

antibody

was raised against a peptide corresponding to 14 amino acids near the N-terminus of human TL1A.
Purification : Ion exchange chromatography purified
Clonality and Clone : This is a

polyclonal antibody

.
Host : TL1A antibody was raised in rabbit. Please use anti-rabbit secondary antibodies.
Immunogen : Human TL1A (N-Terminus)

Peptide

(Cat. No. 3109P)
Application : TL1A antibody can be used for detection of TL1A by Western blot at 0.5 to 1 µg/ml.This polyclonal antibody will not cross-react with TL1.
Tested Application(s) : E, WB
Buffer : Antibody is supplied in PBS containing 0.02% sodium azide.
Blocking Peptide : Cat. No. 3109P - TL1A

Peptide
Long-Term Storage : TL1A antibody can be stored at 4ºC, stable for one year. As with all antibodies care should be taken to avoid repeated freeze thaw cycles. Antibodies should not be exposed to prolonged high temperatures.
Positive Control
1. Cat. No. 1216 - PC-3 Cell Lysate
Species Reactivity :H, M, R
GI Number : 21745392
Accession Number : AAM77366
Short Description : (NT) DR3 ligand
References
1. Chinnayan AM, O'Rourke K, Yu GL, et al. Signal transduction by DR3, a death domain-containing receptor related to TNFR-1 and CD95. Science 1996; 274:990-2.
2. Kitson J, Raven T, Jiang YP, et al. A death-domain-containing receptor that mediates apoptosis. Nature 1996; 384:372-5.
3. Screaton GR, Xu XN, Olsen AL, et al. LARD: a new lymphoid-specific death domain containing receptor regulated by pre-mRNA splicing. Proc. Natl. Acad. Sci. USA 1997; 94:4615-9.
4. Bodmer JL, Burns K, Schneider P. TRAMP, a novel apoptosis-mediating receptor with sequence homology to tumor necrosis factor receptor 1 and Fas (Apo-1/CD95). Immunity 1997; 6:79-88.