Survivin Antibody
Catalog# : 2235
Apoptosis, or programmed cell death, is related to many diseases, such as cancer. Apoptosis is triggered by a variety of stimuli including members in the TNF family and prevented by the inhibitor of apoptosis (IAP) proteins. IAP proteins form a conserved gene family that binds to and inhibits cell death proteases. A novel IAP protein was recently identified and designated survivin, apoptosis inhibitor 4 (API4), and TIAP (1-3). Survivin/TIAP interacted with the processed form of caspase-3 and inhibited its proteolytic activity. Survivin/TIAP is predominantly expressed in tissues of embryos, transformed cell lines, and many human cancers and lymphomas (1,3).
Additional Names : Survivin (CT), TIAP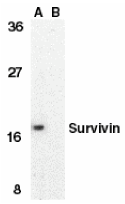 Description
Left: Western blot analysis of survivin in MOLT4 cell lysate in the absence (A) or presence (B) of blocking peptide with survivin antibody at 1 µg/ml.
Below: Immunocytochemistry staining of MOLT4 cells using survivin at 10 µg/ml.
Other Product Images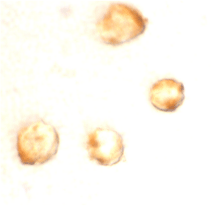 Source : Survivin antibody was raised against a peptide corresponding to amino acids near the carboxy-terminus of human survivin.
Purification : Affinity chromatography purified via peptide column
Clonality and Clone : This is a polyclonal antibody.
Host : Survivin antibody was raised in rabbit. Please use anti-rabbit secondary antibodies.
Immunogen : Human Survivin (C-Terminus) Peptide (Cat. No. 2235P)
Application : Survivin antibody can be used for detection of survivin by Western blot at 0.5 to 1 µg/ml.An approximate 17 kDa band should be detected.
Tested Application(s) : E, WB, ICC
Buffer : Antibody is supplied in PBS containing 0.02% sodium azide.
Blocking Peptide : Cat. No. 2235P - Survivin Peptide
Long-Term Storage : Survivin antibody can be stored at 4ºC, stable for one year. As with all antibodies care should be taken to avoid repeated freeze thaw cycles. Antibodies should not be exposed to prolonged high temperatures.
Positive Control
1. Cat. No. 1205 - MOLT4 Cell Lysate
Species Reactivity :H
GI Number : 59859878
Accession Number : NP_001159
Short Description : (CT) A new inhibitor of apoptosis
References
1. Ambrosini G, Adida C, Altieri DC. A novel anti-apoptosis gene, survivin, expressed in cancer and lymphoma. Nat Med 1997;3:917-21
2. Li F, Ambrosini G, Chu EY, Plescia J, Tognin S, Marchisio PC, Altieri DC . Control of apoptosis and mitotic spindle checkpoint by survivin. Nature 1998;396:580-4
3. Kobayashi K, Hatano M, Otaki M, Ogasawara T, Tokuhisa T. Expression of a murine homologue of the inhibitor of apoptosis protein is related to cell proliferation. Proc Natl Acad Sci USA 1999;96:1457-62 (WD0600)