TACE Antibody
Catalog# : 1131
Tumor-necrosis factor-a is a proinflammatory cytokine and contributes to a variety of inflammatory disease responses and programmed cell death. TNF-alpha is synthesized as a 26K type II membrane-bound precursor that is cleaved by a convertase to generate secreted 17K mature TNF-alpha. TNF-alpha converting enzyme (TACE) protein was recently purified and the human and mouse TACE cDNAs were cloned by several groups separately. TACE is a membrane-bound metalloprotease-disintegrin in the family of mammalian ADAM (for a disintegrin and metalloprotease). TACE also processes other cell surface proteins, including TNF receptor, TGFa, the L-selectin adhesion molecule, and alpha-cleavage of amyloid protein precursor (APP) (4,5). TACE mRNA is expressed in a variety of human and murine tissues. TACE was selected as one of the few targets in cytokine activation by the Eighth International Conference of the Inflammation Research Association.
Additional Names : TACE (CT), adam17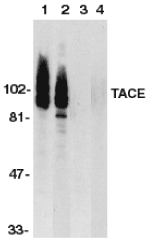 Description
Left: Western blot analysis of TACE in HeLa and Jurkat whole cell lysate in the absence or presence of blocking peptide (Cat. No. 1131P) with TACE antibody at 1:500 dilution.
Below: Immunocytochemistry of TACE in HeLa cells with TACE antibody at 10 µg/ml.
Other Product Images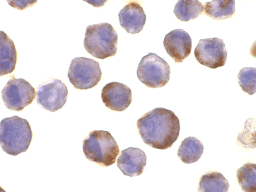 Source : TACE antibody was raised against a peptide corresponding to amino acids near the carboxy terminus of human TACE This sequence differs from those of mouse and rat TACE by one amino acid.
Purification : Affinity chromatography purified via peptide column
Clonality and Clone : This is a polyclonal antibody.
Host : TACE antibody was raised in rabbit. Please use anti-rabbit secondary antibodies.
Immunogen : Human TACE (C-Terminus) Peptide (Cat. No. 1131P)
Application : TACE antibody can be used for detection of TACE by Western blot at 1:500 to 1:2000 dilution. 80 to 130 kDa bands can be detected, which may represent mature protein, precursor, and glycosylated TACE.
Tested Application(s) : E, WB, ICC
Buffer : Antibody is supplied in PBS containing 0.02% sodium azide.
Blocking Peptide : Cat. No. 1131P - TACE Peptide
Long-Term Storage : TACE antibody can be stored at 4ºC, stable for one year. As with all antibodies care should be taken to avoid repeated freeze thaw cycles. Antibodies should not be exposed to prolonged high temperatures.
Positive Control
1. Cat. No. 1201 - HeLa Cell Lysate
2. Cat. No. 1205 - Jurkat Whole Cell Lysate
Species Reactivity :H, M, R
GI Number : 73747889
Accession Number : NP_003174
Short Description : (CT) TNFalpha converting enzyme
References
1. Black RA, Rauch CT , Kozlosky CJ, et al. A metalloproteinase disintegrin that releases tumour-necrosis factor-alpha from cells. Nature 1997;385:729-733
2. Moss ML, Jin SL, Milla ME, et al. Cloning of a disintegrin metalloproteinase that processes precursor tumour-necrosis factor-alpha. Nature 1997;385:733-736
3. Mizui Y, Yamazaki K, Sagane K, Tanaka I. cDNA cloning of mouse tumor necrosis factor-alpha converting enzyme (TACE) and partial analysis of its promoter. Gene 1999;233:67-74
4. Peschon JJ, Slack JL, Reddy P, et al. An essential role for ectodomain shedding in mammalian development. Science 1998;282:1281-4