sRANK Ligand Antibody
Catalog# : 3963
The receptor activator of NF-kappaB ligand (RANK-L) is a recently discovered member of the TNF-ligand family involved in the regulation of the T cell-dependent immune response, lymph node organogenesis and bone formation. RANK-L exists as both a normal, transmembrane form and a truncated, soluble form (sRANK-L), both of which can stimulate the receptor. Activation of T cells, such as by treatment with interleukin-7, induces RANK-L production and leads to an increase of osteoclast formation and bone loss. Finally, sRANK-L can activate the antiapoptotic kinase Akt through a signaling complex involving Src kinase and TRAF6, suggesting sRANK-L may also play a role in regulating apoptosis. This

antibody

will recognize both the soluble form and the uncleaved transmembrane form of RANK-L.
Additional Names : sRANK Ligand, sRANK-L, TNFSF11, TRANCE, OPGL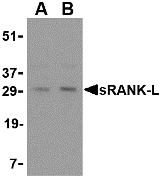 Description
Left: Western blot analysis of sRANK-L in rat liver tissue lysate with sRANK-L antibody at (A) 0.25 and (B) 0.5 µg/ml.
Below: Immunohistochemistry of sRANK-L in human liver tissue with sRANK-L

antibody

at 5 µg/ml.
Other Product Images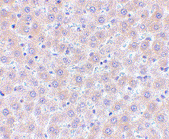 Source : sRANK-L antibody was raised against a 14

amino acid peptide

from near the center of human sRANK-L .
Purification : Affinity chromatography purified via peptide column
Clonality and Clone : This is a

polyclonal antibody

.
Host : sRANK Ligand antibody was raised in rabbit. Please use anti-rabbit secondary antibodies.
Application : sRANK-L antibody can be used for detection of sRANK-L by Western blot at 0.25 – 0.5 µg/ml.
Tested Application(s) : E, WB, IHC
Buffer : Antibody is supplied in PBS containing 0.02% sodium azide.
Blocking Peptide : Cat.No. 3963P - sRANK Ligand

Peptide
Long-Term Storage : sRANK Ligand antibody can be stored at 4ºC, stable for one year. As with all antibodies care should be taken to avoid repeated freeze thaw cycles. Antibodies should not be exposed to prolonged high temperatures.
Positive Control
1. Cat. No. 1464 - Rat Liver Tissue Lysate
2. Cat. No. 1304 - Human Liver Tissue Lysate
Species Reactivity :H, M, R
GI Number : 4507595
Accession Number : NP_003692
Short Description : a member of the TNF-ligand family
References
1. Wong BR, Rho J, Arron J, et al. TRANCE is a novel ligand of the tumor necrosis factor receptor family that activates c-Jun N-terminal kinase in T cells. J. Biol. Chem. 1997; 272:25190-4.
2. Kong YY, Yoshida H, Sarosi I, et al. OPGL is a key regulator of osteoclastogenesis, lymphocyte development and lymph-node organogenesis. Nature 1999; 397:315-23.
3. Weitzmann MN, Cenci S, Rifas L, et al. Interleukin-7 stimulates osteoclast formation by up-regulating the T-cell production of soluble osteoclastogenic cytokines. Blood 2000; 96:1873-8.
4. Bharti AC, Takada Y, Shishodia S, et al. Evidence that receptor activator of the nuclear factor (NF)-kappaB ligand can suppress cell proliferation and induce apoptosis through activation of a NF-kappaB-independent and TRAF6-dependent mechanism. J. Biol. Chem. 2004; 279:6065-76.